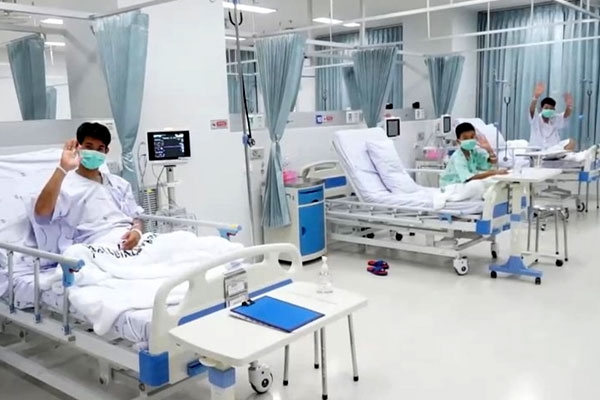 (Image source from: Hindustan Times)
The preparations to rescue remaining four boys and their football coach trapped in a cave complex in northern Thailand have resumed on Tuesday which is the third rescue operation, in a race against time and monsoon weather.
Out of the labyrinthine Tham Luang cave on the Myanmar border on Monday, four more of the boys were carried on stretchers bringing to eight the total number brought out up to now after two rescue pushes in consecutive days.
The head of the operation, Narongsak Osottanakorn, said rescuers had learned from experience and were two hours faster in bringing the second batch of survivors out as scattered monsoon rains continued to risk flooding the tunnels with water.
During a nine-hour operation through nearly 4 km, the boys were guided by a crack team of foreign divers and Thai Navy SEALs.
"I am very happy about those who already made it out and I think everyone will be out today," said Waranchit Karnkaew (14), who also said the football-mad boys had been closely following games at the World Cup in Russia before they were trapped. "I want to take my friends to lunch and we will play football together," he told Reuters.
FIFA has invited the boys to the World Cup final on Sunday in Moscow if they make it out in time.
Rescue organizers say they need 20 hours to replan and refill oxygen supplies, with the succeeding rescue mission anticipated to come sometime on Tuesday afternoon, weather condition permitting.
However, organizers declined to confirm whether they would attempt to bring all five out in the third push, with the plan so far being to bring out four at a time.
"It is up to the environment. If the rain god helps us, then we may be able to work fast. But if the rain god doesn't help, then it could be challenging," Narongsak said.
The rescue operations have drawn international attention, with various groups flying in from around the world to assist.
By Sowmya Sangam